Product businesses are facing unprecedented challenges due to the current circumstances. Many companies working in technology have found it relatively easy to continue operating with their people working from home, but that's only half the story: how do you keep motivated and productive, whilst maintaining morale?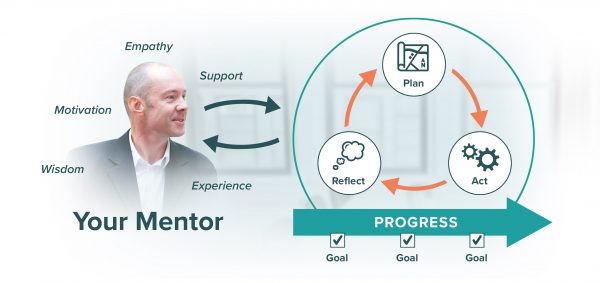 Mentoring for Product Leaders
One of the ways that Product Focus can help is via our Product Leader Mentoring program.
This is a packaged program of sessions with one of our Senior Consultants working confidentially one-to-one, bringing their considerable experience to bear on the specific challenges you face.
It's a rapidly-deployed service that offers a way to make a quick positive impact on your organization at this difficult time. Your Mentor provides practical advice and support to improve your performance as well as inspiration to boost your confidence.
How does it work?
Imagine you could have your own personal Product Manager!
Like any good Product Manager, your Mentor is fascinated by the problem (your specific role challenges), not the solution (not being fixated on a particular way of doing things).
They aren't going to spoon-feed you, they help you to reflect on your approach so that you can come to a good solution.
Progress is characterized by iterative steps, rather like agile sprints and product releases.
A Mentoring session is like a sprint retrospective, in which you examine what worked, what didn't and how things could be improved next time.
It's a process of continuous improvement, and whether you do a little or a lot there will be some benefit.
The sessions are normally run weekly or fortnightly as a video call. Due to the flexible way in which we work, we can arrange this at a time that's convenient for you and without a long wait.
Don't take our word for it:
I asked Product Focus for coaching/mentoring prior to starting at a new company. I was really excited about the new role and wanted to hit the ground running as fast as I could. I was really pleased to be linked up with a Senior Consultant who had significant experience working in many companies and been in the sharp end of the product function. I have been able to talk through the specific actions that I want to deliver in my first 100 days and get input on how exactly to follow through on my plan. Many coaches can help you develop your own ideas, it is the been-there, know-what-you-mean competence that singles out the Product Focus service.
I found the product leader mentoring to be extremely valuable – a great blend of empathic listening, insightful advice, and challenging questions. The sessions were highly practical and situational and provided me with fresh perspectives on my role and career. The product leader mentoring is a highly worthwhile investment to uncover blind spots, reflect on your impact, and refocus your energy as a leader.
For more information, drop us a line at [email protected]