Product Management and Product Marketing training options
Most people drift into product management. They come from related areas such as pre-sales, project management, or development. And it's not something you can start as your first job; you really need a few years' work experience behind you before you can be effective.
You can read all the articles in our Product Management Journal – Training by signing up for free here.
Some people get specific product management and product marketing training, but we know that many have been working for years without any training at all.
Understanding training requirements
To understand the training that product managers and product marketers need to be effective it can be useful to use the 2×2 matrix shown below. It examines the knowledge and skills required to do the job.
Product managers need specific knowledge about their product domain to be able to make decisions (Box A). They need to understand the customers, technology, competitors, and markets relevant to them. Because this is unique to each role, it's typically picked up 'on-the-job' by talking to colleagues, customers, and suppliers, by attending conferences and from research.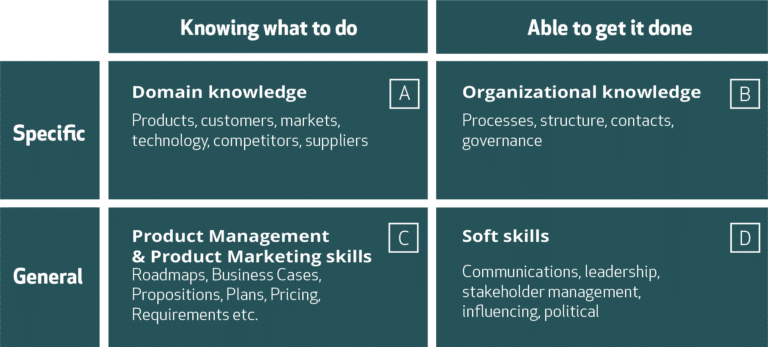 Product managers also need to know about the general product management and product marketing skills, strategies and tactics that are successfully used in technology companies (Box C). These tools help them decide what to do. This is the focus of most product management training courses including ours.
However, to get things done, product managers also need to know the processes, structure, governance, and appropriate contacts in their organization (Box B). This knowledge is specific to each company and is picked up on the job e.g., how the development process works.
Finally, product managers need to have the generic skills to get things done (Box D). They have to be able to project manage, lead teams, influence, and present. Many training providers teach these 'soft skills' and in larger companies, in-house training is often an option.
What are the product management training options?
There is a range of options for Box C, and it is important to decide what's most appropriate for you and your team.
Self-study
Buying books on product management, reading journals and browsing online is free and easy – it's a great way to get an introduction to a topic. However, there isn't the opportunity to ask questions, share experiences or to practice what you've learned. Also, there is no certainty on quality so it's down to you to judge what's good and relevant.
E-learning
E-learning courses are delivered as recorded videos and presentations over the web. They are usually cheap and available on-demand so you can do them at a time that suits. However without any live interaction it takes lots of self-discipline to stay focused. They tend to be less engaging and effective than classroom-based training or live online courses.
Live online course
If you're working from home, or it's too expensive to travel, then a live online course is a great option. These courses have lots of interaction with the instructors and other delegates. They are designed with exercises and discussions to keep you engaged and energized. In addition they can be combined with e-learning (pre-work and follow-up activities) to maximize the learning experience.
Classroom-based training
A great way of making sure you dedicate time away from your desk and the distractions of the office. As you're there with other people you get to take part in discussions, ask questions and work on group exercises together. The interaction with the presenter and other delegates is a large and important part of the learning experience. This is the most engaging, fun, and effective training available.
Public courses vs. private onsite training
So what's the difference? A public course is one that anyone can attend, and is put on by a training provider at a particular venue on a specific date. Part of the attraction is the opportunity to network and share experiences with product managers from different companies. It's the only option if you're looking for a course for fewer than 5 people.
A private on-site course is one that is run for a single company. This means the course material can be tailored to focus on specific business issues – and it keeps things confidential. It's a great way of bringing the team together, getting them talking the same language, and working on some of the product management challenges at your company. However, usually, you need 5 or more delegates for it to be cost-effective and to achieve a good level of interaction and discussion.
Training Provider Assessment Checklist
You only have one shot at attending a course or running training for your team, so choosing the right provider is really important. Price may be the most visible factor, but choosing solely on price risks wasting time, and money on a poor quality experience.
We've proposed a list of things to consider below. Decide which are important for you and then rate potential providers to see how they score.
Training provider checklist
1
Certification
Is it an option? A certification shows delegates have attained a certain level of knowledge and is good for their CV. Revising for an exam helps embed what's been taught.
2
Content
Does the course cover all the areas you need now and in the future?
3
Course maturity
Is the course well-established and has it been honed and improved over many deliveries? Are the instructors experienced in delivering it?
4
Course philosophy
Some companies focus on the theoretical and are formulaic in their approach to product management. It's their way, or it's the wrong way. Others focus on how to apply a range of tools, ideas, and approaches. You need to decide which is the most useful for you.
5
Course style
Does the provider talk about the style of delivery? Will it be 'death by PowerPoint,' or will it be lots of interaction, exercises, and discussion to keep you enthused and engaged?
6
Credibility
Has the training provider been around for some time? Is their focus purely product management and product marketing? Are they active in the industry doing research and publishing articles? Do they have independent reviews of their performance?
7
Flexibility
You might have specific objectives not met by off-the-shelf training. In a private on-site course or workshop, is your provider willing to change things to focus on what's important to you? Do they have a library of content and exercises they can use to create a tailored course?
8
Instructor to delegate ratio
Once you have larger numbers of delegates, there is less time for each delegate, and some people struggle to engage fully. Some training companies try to pack in as many people as possible, while others have strict limits on the number of attendees.
9
Instructors
It's important that the instructors have done the job themselves and have a wide range of experience they can bring to the course. Are the instructors up to date? Have they been there and done it?
10
Location
If you're running an on-site course, you can make sure the location suits the team. If you're attending a public course, is it somewhere you can get to easily? Is there a good choice of hotels? It's a bonus if it's somewhere you'd like to go anyway!
11
Post-course follow-up
What else is offered following the training? Can you contact the instructor with questions? Is there ongoing access to online resources? With a private on-site course, are there additional services available to help implement and embed what's been learned?
12
Relevance
Try to choose a provider that specializes in your industry or sector. The course materials and anecdotes will be more relevant, and you will get more from discussions with other delegates.
13
Tools and templates
Does the course provide a soft copy of tools, templates, and checklists that you can adapt and use once you are back at the office?
14
Value for money
Does the course cover everything you need now and in the foreseeable future? Some training companies split product management into various parts, so you need to attend a whole series of courses to get the full picture - which can be expensive and time-consuming.
15
Venue
Is the venue conducive to a great learning experience? Is it purpose-designed, with airy rooms and good food? You don't want to be stuck in a hotel basement for 3 days!
See more details on our Certification.