What is the product management lifecyle?
The Product Management Lifecycle shows the process companies typically use to develop, launch and manage products. Any business can use it to analyze and improve the process of developing and selling its products.
Our lifecycle model gives you a step-by-step visual guide to cover all the stages any product will go through, accompanied by useful checklists to ensure you have everything in place at each stage. It works whatever your development approach – Agile, Waterfall, or hybrid.
There are also various Product Lifecyle models that can help you as a product manager (see below).
How can it help you?
Use the Product Management Lifecycle model to:
Review and improve your company's process for developing and managing products
Work with an Agile, Waterfall or hybrid development approach
Use at a product, release or feature level
Ensure you're working effectively at all stages – from start to end
Checklist each stage, so you don't miss anything
Agree on responsibilities to work smoothly with other teams in your business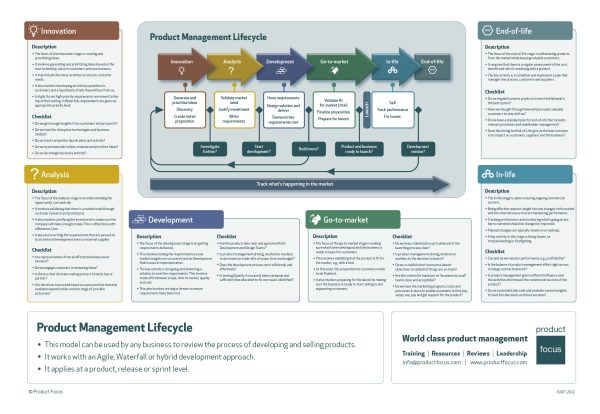 Complete the form below to request your
FREE
copy and make sure you have everything in place in your product management process.
Request access to the Product Management Lifecycle
Product Lifecycles
There are a whole variety of ways different product lifecycle models can be used – with MVPs and Optimum products, the concepts of break-even point and payback, and how you manage the launch and end-of-life stages of a product. See more details here.